10 Gnomes in Paris
A downloadable game for Windows, macOS, and Linux
You have to find titular 10 gnomes as you search the location by navigating between photographs. Look in every nook and cranny as those little fellas tend to be quite shy really.
Install instructions
No installation needed, it's a standalone game. Just download and unpack it.
IMPORTANT: if you have problems opening this game, download the itch.io app and open this game through that app - works like a charm then.
Download
Comments
Log in with itch.io to leave a comment.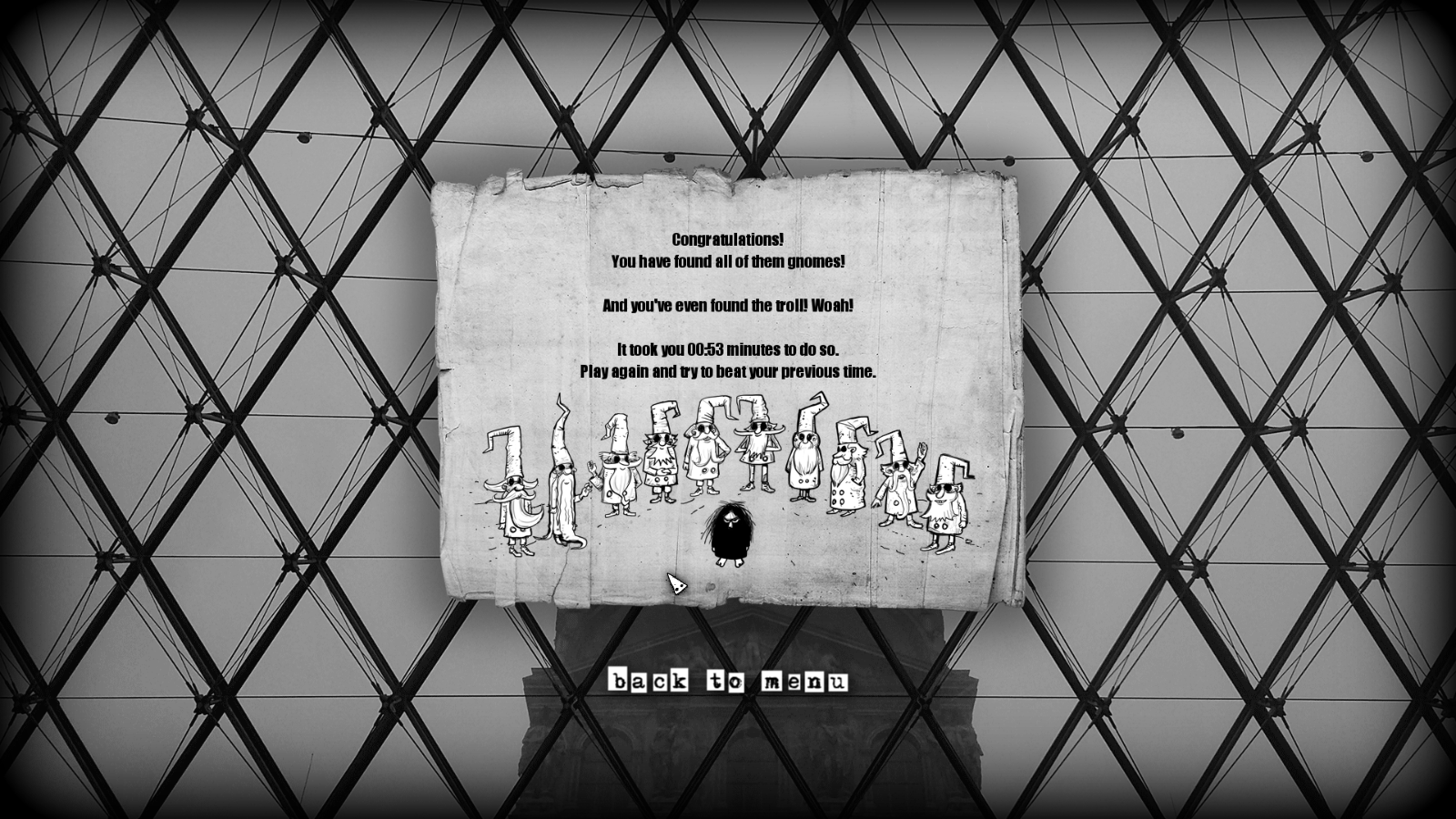 Cute and oddly cathardic. Took me back to my childhood searching for elementals and fairies. Thankfully I was more successful as an adult.
Sound didn't work in Linux via launcher, but still fun.
so hard haahahaaa
its big yet small
Thank you for a very different game that i've ever played keep up the amazing work
Next one a Spanish City, please.
Hi, I was wondering if there is ever going to be another submachine game coming anytime soon, because I think i heard somewhere that there was going to be another one in mid 2019 and i wanted to know wether or not that was true.
yes, there will be another submachine, but probably a bit later than mid 2019. I'd rather say 2020...
This was pretty fun. A few of them were pretty tricky to find. Could maybe have done with some nice music but it ran well and for anyone looking for a time filler this is a good pick. Good job... :)
A very nice game. For free. Although I missed the classic ambient played. And there is a problem with the time, it seems not to count the frames someone is in for half a second. Meaning that if you stay not exactly for a second or more in a frame, the time does not count it. Anyways, I am thankfull for the game, on to the future! :D
the game still has sound, and the soundtrack as well and time counting doesn't corelate to movement.
Greetings, Mateusz. I've been following your games for a lot time. And I just wanted to say thanks for all these great games like Submachine, Daymare Town and 10 Gnomes, I've really enjoyed them. Hope you keep up the great work :)


I'm definitely downloading this.
Thanks! Hold on for the Big Game. :D