Covert Front Episode 2
A downloadable game for Windows
Covert Front is a point and click spy game, where you become an agent code-named Kara and investigate the disappearance of general Karl von Toten.

The plot takes place in 1904 but in a different reality-line, where the first world war has already begun due to earlier technical revolution that took place in the mid 19th century.
Story written by Karol Konwerski.
Game is divided into four parts, all being chapters of the same story.
Install instructions
No installation needed, it's a standalone game. Just download and unpack it.
Comments
Log in with itch.io to leave a comment.
It's a bug?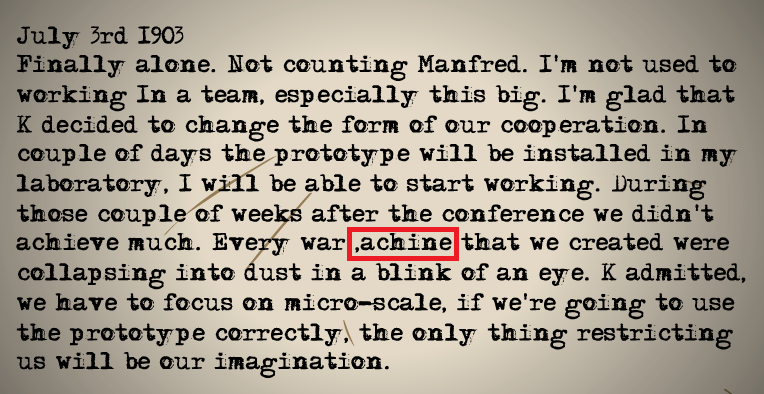 If someone reads this, I want to make a review of every Mateusz Skutnik game on Itch, so if it is written a long time ago then it will probably be on every one. Every review has 4 topics, Graphic, Sound, Gameplay and Plot.
Graphics are a bit less when I compare it to the first game, it feels kinda grey and not much glimps. I know this game takes place underground in a sewer/secret base. But I knew that if the game was redrawn or made in this year it would be so much better. The way the German spiked helmets are flat is kinda bad. But when you are outside the nightsky in the Bavarian forest is amazing. I hopes that Mateusz opens it and shows a little bit more of the forest. I give it a 6,3/10
The sound FX and soundtrack are a bit better. There are more walking sounds. But the fact it only has one track is a bit weird. I think personally a tunnel has a different sound than a brick ladder... And I know Mateusz has the sounds to add them. In the old Movie Real videos on Youtube (Now on vimeo) he uses other sound FX which he should implement. There are enough royalty free sounds for it. I give the sound FX and soundtrack a low score, because it could make the game way better if it has more love it it. I give it a 5,7/10
The gameplay is lacking, it is a bit to easy and when it comes to entering a code it seems just to difficult, there is no rule behind the keypad numbers and there is no way of figuring it out otherwise than pressing them and noting the place where they are. Also, when you are trapped and cannot go outside it screens though the PC to be explored. Also when the hatch in the bigging is closed. I want to explore that so bad! I think it realy deserves so much more love. I give it a 4,9/10. I know revisiting it would make the game so much better. But maybe I am to hard on it, since the first part is so cool in the greatest mansion drawn in Mateusz skutniks games ever and now just a semi bunker.
The plot is cool at some points, Kara entering a code to the IAGH and going out of the elevator is so cool like the intro of Covert Front 1. The intro of this game is not lacking either. But I am afraid it will be removed once the game is remade in game maker. I give the gameplay a 7,6/10
I maybe was a bit harsh but I think if Mateusz had more critism instead of an (don't get me wrong) well deserved stream of positivity, the games and comic would be so much better.
These games are my absolute favorite! I really like your work and all the time and passion you put into them. Thanks for making so many interesting point-and-click adventures!
I can't download this game. The other episodes downloaded fine.
more details? You downloaded but couldn't open the zip file?
Or just couldn't download at all?