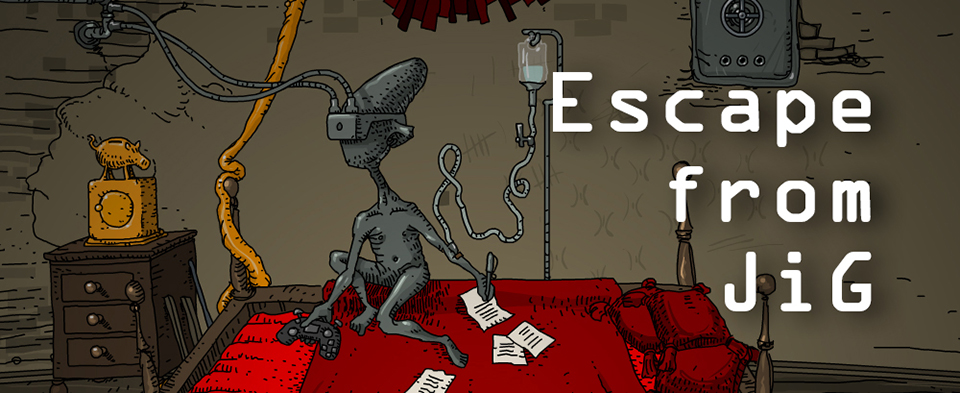 Escape from JiG
A downloadable game for Windows
It's a room escape point and click puzzle game.
In essence, your main goal is to get out of a weird room filled with old arcade machines, strange computers, and what appears to be some kind of alien hooked to a virtual reality headset. To do that, you must gather useful objects and use them in ingenious ways.
Although the graphics may look simple and in 2D, the artwork is great and you can tell that the artist took his time coming up with it. The strange machinery and the nice choice of colors create unique atmosphere, although the soundtrack contributes a lot to the feeling as well.

[excerpts from review by Alexandru Dulcianu]
[This game was created in 2014 and sponsored by JayisGames.com]
Install instructions
No installation needed, it's a standalone game. Just download and unpack it.
Comments
Log in with itch.io to leave a comment.
Took me awhile but i manage to escape YEA! really love the art work and idea, great work good job.
it's available the mac version?
If you go to Jayisgames.com, you will find the game's page has downloadable Mac version listed. I couldn't get it to open on my Mac OS Mojave version 10.14, but maybe you can on your Mac. IF NOT, just click the large yellow PLAY bar seen the Jayisgames page, allow Flash plugin to operate if it asks you, and you're off! I am playing it directly from the website that way right at this moment. Hope this helps you...
m e m e s a r e b e t t e r
This was really cool. i wish it was longer and that the story would be explained and all that, but i still had a good time playing it. The art was great, it was challenging without being unfair, the music and sounds were good and worked well with the atmosphere of the game, and it was visually very interesting. overall a great point-n-click, very enjoyable. i hope to play more of your games in the future.
Very hard escape room with a bunch of different objects and, lots of things to try to use them on. The biggest question is what is the yellow stuff?!!
Matuesz, I just want to say that I've loved your work for a long time. I'm incredibly happy a new game of your's has come out. I'm super excited for your future projects, and I hope you keep up the good work!
I couldn't open the game on Mac.
If you run into any problems while opening this game
- download itch.io app
and open this game through itch.io app.
So this is a download version with gamemaker but what happened to your game from other website. (For example newgrounds, kongregate, etc) ?

No, this is still flash. It's an older game.
Btw, Newgrounds and Kongrgate don't accept downloadable games (ie created in game maker).